What to Expect from Diagnosis to Recovery
Our patients tell us their experience improves when they understand each phase of their journey and are fully informed about the choices they have along the way. This overview of the reconstruction process is intended to do just that: help you feel educated, empowered, and supported.
A Team Approach to Breast Cancer Care
From diagnosis through treatment, our team works closely to provide you with coordinated, integrated, expert care. While the Friedman Center is solely dedicated to appointments with your plastic surgeon, we collaborate with all of your care partners throughout the Northwell Health system.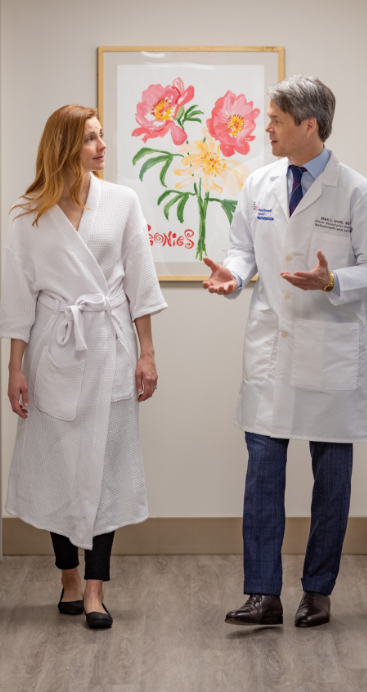 Breast Cancer or Hereditary Risk Diagnosis
If your primary care doctor suspects you may have breast cancer, they'll have you meet with an oncologist, a physician who specializes in cancer treatment. You'll usually have imaging, such as a mammogram, ultrasound, and often a breast biopsy to confirm a breast cancer diagnosis.
If you may be at risk for hereditary cancer, you'll meet with a geneticist or genetic counselor. They'll collect a complete family history. You may also need a blood test to determine if you carry any genetic markers for breast cancer. If you carry genetic markers and are high-risk, you'll meet with an oncologist, who may recommend ongoing surveillance or a preventive mastectomy. 
Breast Surgeon Consultation
Your oncologist and oncologic breast surgeon will discuss your treatment options with you. Nonsurgical treatments, such as radiation and chemotherapy, may be part of your plan and may influence surgical procedures, including reconstruction.
If you have breast cancer, the size, location, and type of tumor you have will determine whether you need a mastectomy or a lumpectomy. Personal preference is also taken into consideration.
If you're at risk for hereditary cancer and want preventive surgery, you'll have a risk-reducing mastectomy on both breasts.

You may need to decide whether you want a mastectomy on one or both breasts. This decision may also impact your breast reconstruction.
Plastic Surgeon Consultation at The Friedman Center
This will be your first appointment with the Friedman Center. Consultations are usually at our practice location in Great Neck, NY, although we also offer phone and virtual consults. Some of our surgeons see patients at other convenient locations on Long Island and in New York City.

In your initial consultation, you'll meet with one of our plastic surgeons to discuss your options for breast reconstruction after mastectomy or lumpectomy.

You'll also meet your physician's surgical coordinator, who can help with scheduling, insurance, connecting you to other resources, and more.
Your plastic surgeon will work closely with you to understand your preferences and choose procedures that help you feel whole again. Review a list of Questions to Ask Your Plastic Surgeon here.
You have many decisions to make about breast reconstruction. It's common to have several appointments with your doctors during this time. Our team is happy to meet with you as often as necessary to ensure that you're comfortable with the decision-making process and your treatment plan. We're here to help you every step of the way.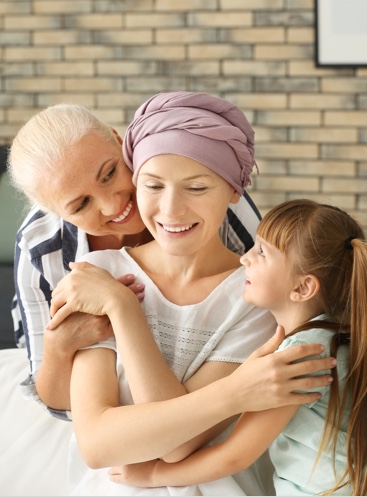 Your surgical coordinator will work with you to schedule your surgery and any pre-operative appointments, gain the appropriate clearances with your insurance company, and connect you to support resources.

The best thing you can do in the weeks before surgery is to take care of yourself! Focus on a healthy diet, consistent exercise, and adequate sleep.

Make arrangements to take off work and have a caregiver assist you after surgery.

Use our Mastectomy Checklist to assemble hospital items and home items for a smooth recovery.
Engage in mindbody practices (meditation, yoga, mindfulness, journaling) to strengthen the connection between your physical and mental wellbeing.
Your breast surgery

 will include your mastectomy or lumpectomy and any immediate reconstruction procedures. For some women, this is their only surgery. 

Our plastic surgeons at the Friedman Center work closely with your breast surgeon to coordinate the surgery.

Your surgery will be performed in a hospital and will take several hours

—time varies depending on the procedure(s). You'll meet with an anesthesiologist who will explain how you will be monitored and kept comfortable throughout the surgery. Download the Guide to Your Upcoming Surgery for more information.
You'll typically see your breast surgeon and plastic surgeon before surgery begins. During this meeting, your plastic surgeon will probably make preoperative markings on your body with a marker as part of surgical preparation.
If you are having flap reconstruction, you will have one or more additional surgical sites at the place(s) where your donor tissue came from.
When you wake up, there will be drains near your incisions to collect blood and other fluids. The drains will remain in place for at least 5 days and up to 3 weeks. While you're in the hospital, our nurses will help you  learn how to care for the drains. The drains will be removed during a postsurgical visit at the Friedman Center. You can find more information on drain care here.
Your initial recovery after surgery will happen in the hospital.

A hospital stay may be anywhere from 1-3 days on average, depending on the type of procedure you've had.

The Friedman Center's ERP (Enhanced Recovery Pathway) protocol will shorten your hospital stay, reduce your pain levels, and help you have the best possible outcome.

After being discharged from the hospital, most women finish their recovery at home. If you've traveled a longer distance to have your breast reconstruction with a Friedman Center surgeon, you may need local accommodations to continue recovery. It can take up to 12 weeks to fully recover from surgery.

Initially, your mobility will be limited. Please plan to have someone take care of you for at least your first few days after leaving the hospital.

Allow yourself plenty of time to rest and recover. It's exactly what your body needs to heal!

During this time, you will have postoperative follow-up appointments with your breast surgeon, plastic surgeon, and others on your breast care team.

Your plastic surgeon would like to see you for follow-up appointments every week for the first 2-3 weeks. After that, your visits will likely be less often; at 1 month, 6 weeks, 3 months, and 6 months after surgery.   
Second and Third-Stage Reconstruction Procedures
Not all women will have additional breast reconstruction procedures, however, some will choose to have further enhancements.

You may need second or third-stage reconstruction if factors require delayed reconstruction, if your procedure uses tissue expanders, or if you are having nipple reconstruction, fat grafting, medical tattooing, or other additional procedures.

Recovery time varies depending on the procedure. 

These procedures may be performed at Northwell Health locations, such as hospitals and outpatient surgery centers. Smaller procedures such as nipple and areola tattooing are done onsite at the Friedman Center.
The Friedman Center has resources to support you at every stage of this journey.
We can connect you with support groups, patient advocates, psychosocial services, mindbody practitioners, physical therapists, nutritionists, and more.
We're here whenever you need us.
The Friedman Center has resources to support you at every stage of this journey.
We can connect you with support groups, patient advocates, psychosocial services, mindbody practitioners, physical therapists, nutritionists, and more.
We're here whenever you need us.
Learn more about your options: