Events & Community Support Groups
Mental Health Impact of Breast Cancer and Stress Management
Views Navigation
Event Views Navigation
Download a PDF version of the following support group information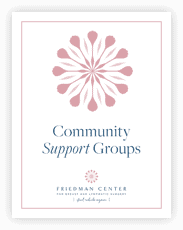 Click on the headings below to expand these lists.
Breast Cancer Support Groups at Northwell Health

Caregivers Support at Northwell Health

Long Island Breast Cancer Support Groups

NY Regional Breast Cancer Support Groups

National Breast Cancer Support Group Organizations with Local Chapters

Online Only Support Groups
Don't see a support group near you? Reach out to us at [email protected] for assistance.
Join a community that understands what it's like to have breast cancer reconstruction. Our events include social and informational activities—meet fellow patients in a support group or learn more about the latest innovations from our doctors.