A supportive, well-fitting bra can dramatically improve a woman's comfort—especially after breast surgery.
Bras come in all shapes, sizes, fabrics, and colors. Many women choose a bra
based on comfort, price, activity level, or the way they feel wearing it. While
all factors and your personal preferences are important, fit should
be at the top of your priority list when bra shopping.
A well-fitting bra supports the breasts without squeezing them. A bra
that does not fit properly can be uncomfortable and even painful.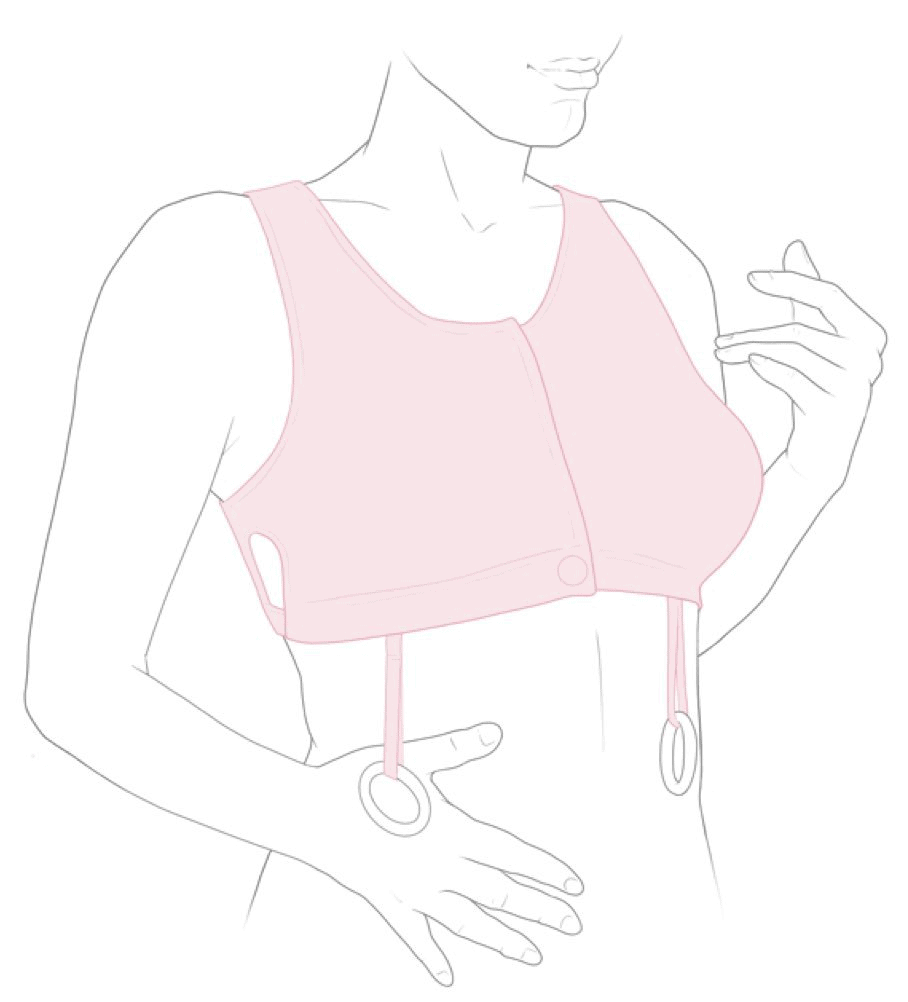 When looking for a new bra, focus on four key elements:
Underbust band. Should be wide enough to support the breasts without rolling or folding.
Cups. Should support or cradle the breast without significantly altering its natural shape. Underwire is not recommended right after breast reconstruction. Your surgeon will advise when it's ok to resume wearing an undrewire bra.
Straps. Should be easily adjustable and wide enough that they will not dig into your shoulders.
Fastener. Should be wide and secure without causing irritation to your skin.
Remember that the age of your bra is critical as well! Bras are only intended to provide optimal support for about 6 months.
After a mastectomy or lumpectomy, certain items will be covered by insurance (as mandated by the Women's Health and Cancer Rights Act). Postsurgical camisoles are covered, and for women who choose not to have breast reconstruction, prostheses, balance forms, and pocket bras are also covered for the rest of your life. Women who have had reconstruction may also use pocket bras (although the "pocket" will remain empty since the new breast already fills the cup).
Specialized retailers provide postsurgical bras for women who have had breast surgery. Depending on the recommendation of your doctor, you may wish to purchase a compression bra or a bra built to accommodate the drains you will have after surgery. Some doctors will also recommend abdominal binders for additional support after abdominal flap reconstruction.
Important Facts for Breast Cancer Survivors While Considering Bra Choices
The women's Health and Cancer Rights Act mandates that insurers balance forms, pocketed bras and post-surgical pay for prostheses, camisoles for women with breast cancer after mastectomy or lumpectomy. It doesn't matter if your surgery was 15 years ago, last month or is scheduled for next week, you are entitled to this robust coverage for the rest of your life.
Your insurance company can help you understand what will be covered so you enjoy the benefits of your policy. Many insurance plans including GHI and more will cover mastectomy bras. For example, Medicare pays for 1 post-op camisole, 4-6 bras each year, and one or two prosthesis or balance forms every two years based on need.
Many Companies offer camisoles designed to comfortably carry surgical drains during your post-surgery recovery, and compression bras used by some doctors immediately after surgery. It is important to talk with your doctor about what he or she wants you to wear after surgery.
If your plan of care includes chemotherapy or radiation after your initial surgery, there are soft bras designed specifically for women who are sore from radiation therapy and natural-looking, affordable wigs to wear during chemotherapy.
A fitter can measure you for mastectomy and/or compression items and make suggestions of brands that will best meet your unique needs. Ideally, meeting with a fitter prior to your surgery is recommended so we can have your post-op items ready for you as you leave the hospital. We also carry sample garments in the office for you to see.
Breast prostheses, balance forms and bras come in all sizes, colors and styles to address the unique needs and desires of all women. Many providers offer custom breast prostheses, made specifically to fit your body using new, state-of-the-art technology.
A properly fitting prosthesis, balance form and bra are not just important for cosmetic reasons. If your body is no longer in balance, it may compensate with a slight curve of the spine and/or your shoulder may drop, leading to chronic lower back pain.
Most women wear their bras way too long. Guilty? The average functional life of a mastectomy bra is six months depending upon how often it is worn and washed. It is recommend that you always have a minimum of three to four good fitting bras on hand.
Your bra size can change over time. Did you know that an increase in only five pounds can cause your bra size to change?
Women who have had lymph nodes removed during mastectomy or lumpectomy surgery may be at risk for lymphedema, the abnormal collection of high-protein fluid just beneath the skin. Doctors and therapists will often recommend compression garments for your arm and hand that can help contain the swelling caused by lymphedema. Even if you don't have active lymphedema, experts recommend wearing a sleeve while flying or while doing strenuous activity to avoid lymphedema. They come in a variety of fun colors and prints, as well as colors to match your skin tone. Depending upon your needs, we can help you with ready-to-wear or custom garments, garments made to wear during the day, night time garments, and pumps.
Resources for bras and garments:
Janet's Post-Mastectomy Boutique
441 Passaic Street
Hackensack, NJ 07601
+1 (201) 488-7866
The Friedman Center is here to help you find the right postsurgical resources to meet your needs. Please contact us at [email protected] or reach out directly to your preferred boutique.
The Friedman Center is here to help you find the right postsurgical resoruces to meet your needs. Please contact us at [email protected] or reach out direclty to your preferred boutique.