Our advocacy team wants to connect, empower, and support you in any way possible.
Many women going through breast cancer and reconstruction can sometimes feel overwhelmed by the process. Learning about different options can be confusing, speaking to different doctors and surgeons can feel daunting, and navigating the journey can be complex.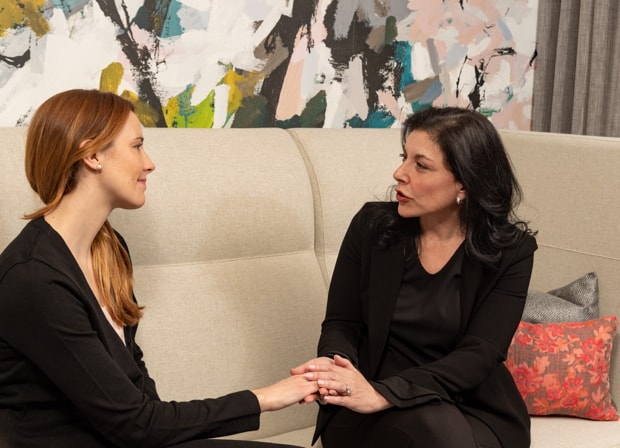 Our goal is to provide an experience where women collaborate with their physicians to choose a treatment plan, understand what decision they need to make, and have access to resources that help make this journey easier.

If you need a hand to hold, a shoulder to cry on, or a fighter in your corner, we're here for you. If you aren't sure what kind of support you need, but you know you need help, please reach out to Janet, our Program Director anytime.
Breast Cancer and Reconstruction Support Groups
Interested in speaking with other women who have faced breast cancer and undergone breast reconstruction? Join our online support group, where patients meet to share stories and connect with one another. (Due to COVID-19 our in-person groups will meet online.) Visit the Events page for our schedule.
You can also connect with us virtually in our Facebook support group.
Get encouragement and advice whenever you need it. Let us match you with one of our patient advocates—all women who have gone through breast reconstruction themselves—and connect via phone, email, or video chat for some extra support. Your patient advocate can also help you find a breast cancer community in your local area
For more information, please contact our Patient Advocacy team.
Our events aim to educate, empower, and create a strong sense of community. From speakers to symposiums, we host events in person and online all year long. Note: During COVID-19 we are scheduling our events online.
Visit the Events page for a full calendar of activities.
Are you looking to "pay it forward" and help others? You are invited to join with our peer advocates to help patients on their breast reconstruction journey. If you have had breast reconstruction with one of our surgeons and feel called to support other women, please contact our Patient Advocacy team.