Preventing Lymphedema (LYMPHA)
The best approach to managing lymphedema may be to avoid it in the first place. LYMPHA is a cutting-edge surgical procedure that can prevent lymphedema. You may be able to have the LYMPHA procedure at the same time as your breast reconstruction.
LYMPHA: Innovation in Prevention
The LYMPHA (Lymphatic Microsurgical Preventative Healing Approach) technique, also known as lymphovenous bypass, has been shown to help reduce the risk of lymphedema.
It's offered for patients who need an axillary lymph node dissection because cancer has spread into their lymph nodes.
LYMPHA is a specialized bypass procedure that must be performed by a plastic surgeon trained in microvascular lymphatic surgery. The Friedman Center is proud to be one of the few breast centers in the world performing this innovative, life-changing surgery.
Prior to the axillary lymph node dissection, a blue dye is injected into the patient's upper arm to map the lymphatic circulation from the arm. During the node dissection, the surgical team takes a small branch of the axillary vein, and inserts the cut lymphatic vessels into the branch to restore the normal lymph flow. The mastectomy (and breast reconstruction, if it is being done) may be performed at the same time as the LYMPHA procedure.
Insurance coverage: LYMPHA is still a fairly new method of lymphedema prevention, and not all insurance companies cover preventive LYMPHA procedures. Check with your insurance company to determine what type of coverage is available.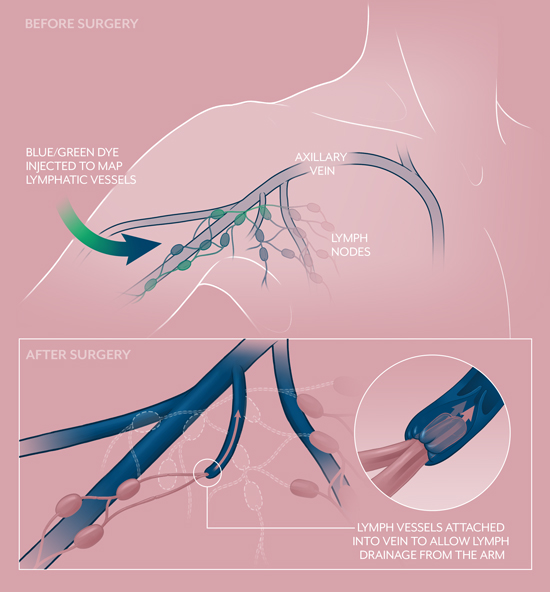 Learn more about your options: